Paddlewheel riverboat plans
Build your own flat bottom paddlewheel riverboat to cruise the lake this summer with these plans. Attach a barge for a bigger party. Now you can be just like Tom Sawyer riding on the Mississippi!

Boat features a twenty-two (22') overall length by twelve (12') width wood frame. Plywood and steel or ferrocement construction. Easy to follow plans show framing and mechanical installation. Drive is simple hydraulic, driving the wheel by chain. Powered by any 4 cylinder automobile engine with the transmission removed.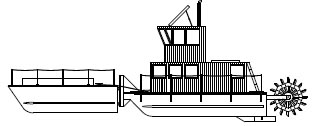 This detailed set of cad assembly drawings for building a paddlewheel riverboat is printed in black and white on roll paper and includes 4 pages printed on (1) 36" x 48" sheet.

IMPORTANT NOTE: Our plans are designed to be simple enough to be understood by the do-it-yourselfer but are NOT "step-by-step" instructions. Actual construction of items using these plans may require specialized engineering knowledge, tools and building/manufacturing/fabrication expertise. Although we appreciate feedback to improve our designs, we do NOT provide engineering advice or consultation services. By ordering these plans, you are agreeing to our DISCLAIMER and TERMS AND CONDITIONS. Please ASK ALL QUESTIONS prior to ordering plans because like computer software, PLANS ARE NONRETURNABLE AND NONREFUNDABLE.
Download these plans now for just $5
You can download these plans to view on your computer monitor and zoom in/out to view details but for printing, YOU MUST HAVE A 36" WIDE PLOTTER TO PRINT READABLE PLANS. Below are scaled down versions of the actual plans you get:

PROCEDURE: After checking out you will be given a link where you can download your plans right away. If you have trouble with getting the download, please CLICK HERE to contact us.

Click "Buy Now" button below to order plans by instant download.


IMPORTANT - READ BEFORE ORDERING
Click the "BUY NOW" button to order. A shopping bag will appear on the bottom right of your screen. You can checkout by clicking the shopping bag

, or add other items then click the shopping bag when your order is complete. To delete items from shopping bag, click the shopping bag and then click the X in the upper right corner of item image you wish to delete

If you checkout using your credit card or Paypal through our regular procedure, be sure to input your EMAIL ADDRESS carefully as the payment receipt sent there immediately after placing your order will include a link to your download.
---
Order paper plans for only $20
Free shipping to USA and Canada

Printed on poster-size 36" wide roll paper.
Approximate shipping time from order placement to delivery: 1 week
In Stock - ships daily by USPS 1st class mail.

PROCEDURE:
We will send you an email receipt for your payment immediately following order placement. Upon shipment, we will send you an email with shipping information.

Click "Buy Now" button below to order paper plans by mail.


---
You can also order by mail or by phone:

CLICK HERE to order by mail

CLICK HERE to order by phone

---

IMPORTANT COPYRIGHT INFORMATION

Use of MyDIYPlans™ plans is subject to certain restrictions. By ordering our plans, you agree to the following:

All of MyDIYPlans™ plans are owned and copyrighted by the Do It Yourself Store, Rockwall, TX USA © 2009 ALL RIGHTS RESERVED.
These plans are only to be used by do-it-yourselfers to make a finished product for personal use or for resale at craft fairs or outlets. All resale finished products must include an attached design credit to MyDIYPlans™.

Unauthorized copying and redistribution of MyDIYPlans™ plans, or using the plans for anything else including commercial mass-production is a copyright infringement, as prohibited by the U.S. Copyright Act, 17 U.S.C. 101 et seq., and International copyright law and is in direct violation of the international rights of the copyright owner.